As in the rest of India and other parts of the world, solid waste is a serious problem in Bir. Garbage is thrown in rivers and empty lots, and plastic waste is burned in the open. There are no recycling or waste processing facilities, and there is no waste collection or disposal system. Different solutions have been proposed by various community leaders and members, but typical suggestions of public bins, landfills and incinerators encourage an 'out of sight, out of mind' attitude, as well as creating more environmental hazards. Deer Park seeks more responsible solutions, as part of the global Zero Waste movement – a philosophy that aims to guide people in changing the way they use resources with the aim of reducing waste to zero.
Objectives of the Zero Waste Project:
Raise awareness in the community about the health and environmental impacts of the waste problem.
Introduce mindful waste management techniques in the community.
Facilitate the development of waste management action plans between different community groups and the local Indian and Tibetan administrations.
Promote the local economy, with a focus on traditional crafts and locally grown and processed foods and drinks, packaged in biodegradable alternatives to plastic.
Deer Park believes that to effect positive change in the community, we must first start with our own internal approach and practices. Thus we strive to become a model for environmentally sustainable living, which includes following environmentally friendly solid waste management practices and using renewable forms of energy.
---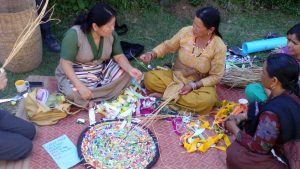 To reduce consumption and promote the Zero Waste model effectively requires far-reaching changes in the habits of the whole community. A key area of Deer Park's Ecology Project is educating and involving local community members to take responsibility for reducing and recycling waste.
---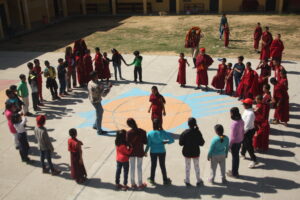 The Joy of Learning program is an initiative by Deer Park Institute to bring about a change in the lives of children and young people and inculcate ethical human values.
It encompasses:
Workshops at local schools, colleges, and monasteries
Workshops at Deer Park Institute for local Indian and Tibetan children
Five-day Joy of Learning camps for visiting student groups from other parts of India and the world

(see sample program below)

Ecology workshops for visitors to Deer Park Institute
Training sessions for teachers from local Indian and Tibetan schools
Eco-handicraft workshops for local villagers at Deer Park Institute
These workshops include environmental awareness and waste management, art and handicraft, learning through stories and games, community service, yoga/tai-chi classes, gardening, camping, local music and dance, cooking, visiting local villages, hikes in the mountains, mindfulness-based activities, chanting, meditation, introduction to Buddhist philosophy and excursions to local monasteries and other sights.
Sample five-day workshop schedule for visiting student groups:
Day 1
Tour around Zero Waste campus: familiarize with the environment
Program design: Collaborative and participatory approach, taking ownership
Mountain orienteering: Learn to develop leadership
Day 2
Bird-watching: Cultivate mindfulness
Hiking and swimming: Be in nature
Movie viewing and discussion: Insight into Tibetan culture and Buddhism from "The Cup" (about a young Tibetan monk arriving in Bir, India)
Day 3
Visit Tibetan school: Cultural exchange with Tibetan children
Walk in the dark: Overcome fear and have fun
Day 4
Karma Yoga: Opportunity to offer help to others
Waste handicraft: Inspiration to recycle waste and creative learning
Bonfire and storytelling: Togetherness and friendship
Day 5
Reflection and sharing of experience (poems drawings, letters): Joy of Learning
---
One primary objective of Deer Park Ecological Program is to work towards building an environmental resource center for the entire Kangra valley.  Accordingly, Deer Park is in the early stages of building its library on environmental and ecological topics in Tibetan, Hindi and English languages.
---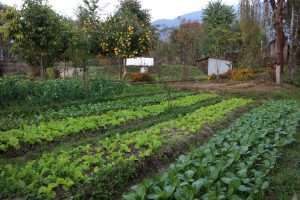 After initiating the Zero Waste project, Deer Park began analyzing other local ecological issues. As with other parts of India, chemical farming has become the most common local practice, while traditional seeds are disappearing. Most of the grains and vegetables available in our local markets are transported from large-scale commercial…