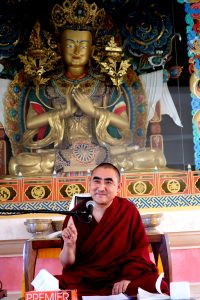 Engaged Buddhism is a means of integrating Buddhism with social action. In this spirit, Deer Park has organized and hosted special programs for a variety of socially engaged groups. These exchanges have proven rewarding for all concerned and have provided a template for further programming in this area.
Since 2007, annual Hindi-language Engaged Buddhist retreats have been held at the Institute, bringing together youth from across India to explore Buddhist philosophy, meditation, education, and social action. These retreats are one of several collaborations between Deer Park and the Youth Buddhist Society (YBS) of Uttar Pradesh, Nagaloka Institute and other organizations.
Other Engaged Buddhism programs held at Deer Park have included 'Science for Monks' workshops, retreats for grassroots leaders and sangha members from Burma, and a reconciliation retreat for interfaith peacebuilders from Sri Lanka.
Deer Park Institute has been a partner and supporter of the Thailand-based International Network of Engaged Buddhists (INEB) for many years, as well as being a member of its Executive Committee. In its institutional role, Deer Park was one of the coordinators for INEB's biannual conference held on October 2011 in Bodhgaya, with approximately 250 participants.