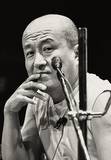 Dzongsar Jamyang Khyentse Rinpoch
Spiritual Director of Deer Park Institute
The present Dzongsar Jamyang Khyentse Rinpoche, Thubten Chokyi Gyamtso, was born in 1961 in Bhutan. He was recognized by H.H. Sakya Trizin and received empowerments and teachings from many of the greatest lamas of Tibetan Buddhism, including H.H. the Dalai Lama, H.H. the 16th Karmapa, and his own grandfather, H.H. Dudjom Rinpoche. His main guru was H.H. Dilgo Khyentse Rinpoche and he further studied with more than 25 great lamas from all four schools of Tibetan Buddhism. While still a teenager, he was responsible for publishing many rare texts that were in danger of being lost entirely, and in the 1980s, he began the restoration of Dzongsar Monastery in Tibet. He has established several colleges and retreat centres in India and Bhutan. In accordance with the wishes of his teachers, he has travelled and taught throughout the world, establishing dharma centres in Australia, Europe, North America and Asia.
In this time when the traditional structures of Tibetan Buddhism are facing challenges, and when Buddhism is reaching new audiences, Rinpoche is known for the freedom with which he moves between cultures and people, and his uncompromising dedication to bringing the philosophy and the path of enlightenment to anyone with an open heart. Information about Rinpoche's teachings and centres can be found on www.siddharthasintent.org, and more details about his projects on www.khyentsefoundation.org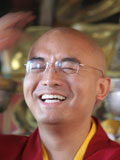 Ven. Mingyur Rinpoche
Mingyur Rinpoche is a highly venerated teacher and master of the Karma Kagyu lineage of Tibetan Buddhism. He was born in Nepal in 1975, and was recognized as a tulku by both H.H. the 16th Karmapa and H.H. Dilgo Khyentse Rinpoche.
At the age of 13, Rinpoche entered a traditional three-year retreat. At age 17 he was asked by H.E. Tai Situ Rinpoche to become the retreat master and at age 20, Situ Rinpoche asked Mingyur Rinpoche to become assistant abbot of Sherab Ling where a new monastic college was established under Mingyur Rinpoche's guidance. One of his current projects is the newly opened Tergar Institute in Bodhgaya, India, which will serve large numbers of people attending Buddhist events at this sacred pilgrimage site, serve as an annual site for month-long Karma Kagyu scholastic debates, and serve as an international study institute for monastic and lay sangha.
Mingyur Rinpoche teaches actively in the West and is known for his remarkable ability to convey the Buddhist teachings in a clear and skillful manner. For more information, please visit www.mingyur.org.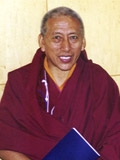 Ven. Samdhong Rinpoche
Professor Venerable Samdhong Rinpoche is Prime Minister (officially Kalon Tripa, or Chairman of the Cabinet) of the Central Tibetan Administration, or Tibetan government-in-exile, which is based in Dharamsala, India.
Rinpoche was born in 1939 in the Jol region of Kham, eastern Tibet, and given the childhood name Lobsang Tenzin.He is regarded as one of the leading Tibetan scholars of Buddhism and is also an authority on the teachings of Mahatma Gandhi. He is fluent in Hindi, Sanskrit, Pali, Tibetan and English.
Dzigar Kongtrul Rinpoche
Dzigar Kongtrul Rinpoche was recognized as an incarnation of Jamgon Kongtrul Lodro Thaye and trained extensively in all aspects of Buddhist doctrine, with an emphasis on the Rime (non-sectarian) tradition of Khyentse, Kongtrul and Chokgyur Lingpa. In particular he received the teachings of the Nyingma lineage, especially those of the Longchen Nyingthik, from his root teacher, His Holiness Dilgo Khyentse Rinpoche. Rinpoche also studied extensively under Tulku Urgyen Rinpoche, Nyoshul Khen Rinpoche and the great scholar Khenpo Rinchen.
Rinpoche travels widely throughout the world teaching and furthering his own education. For more information, visit www.mangalashribhuti.org. To view Rinpocheís paintings, please see www.kongtruljigme.com.
Ven. Geshe Lhakdor
Geshe Lhakdor was born in Yakra, West Tibet, in 1956.
He worked for 16 years as religious assistant and translator in H.H. Dalai Lama's private office and has accompanied His Holiness to over 30 countries worldwide. Since 2005, he has served as director of the Library of Tibetan Works and Archives in Dharamsala. He has translated and compiled several books of teachings by His Holiness.
With his profound knowledge of both traditional Buddhist philosophy and modern culture and science, Geshe Lhakdor is a popular teacher and is frequently invited to teach around the world. He is known for his erudite, humorous and down-to-earth presentation of the Buddhist teachings. In addition to English, he is also fluent in Hindi and is a core teacher in Deer Park's Engaged Buddhist retreats for Indian youths.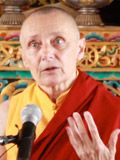 Jetsunma Tenzin Palmo
Jetsunma Tenzin Palmo was raised in London and whilst in her teens she became a Buddhist. 
In India she met her teacher His Eminence the 8th Khamtrul Rinpoche, a great Drukpa Kagyu lama, and became one of the first Westerners to be ordained as a Tibetan Buddhist nun.She remained with Khamtrul Rinpoche and his community in Himachal Pradesh, northern India, for six years and then he directed her to the Himalayan valley of Lahaul in order to undertake more intensive practice. Jetsunma stayed in a small monastery there for several years, remaining in retreat during the long winter months. Then, seeking more seclusion and better conditions for practice,she stayed in a cave for another 12 years, the last 3 years in strict retreat. 
Jetsunma Tenzin Palmo's life is the subject of a well-known biography by Vicki Mackenzie, 'Cave in the Snow', and a DVD of the same name directed by Liz Thompson. To learn more about Jetsunma's teachings and activities, please see www.tenzinpalmo.com