Raji Ramanan – A Remembrance
Finally out of reach –
No bondage, no dependency.
How calm the ocean,
Towering the void.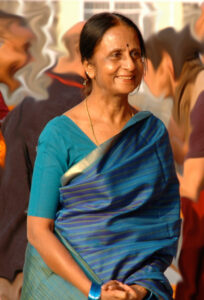 The void created by the sudden death of someone as beloved as "Raji-didi" is still hard to grasp. Her gentle presence at Deer Park, her melodious voice, her inner strength are just a memory now. And she is sorely missed.
Raji played a key role in actively working to revive Buddhism across India, engaging with groups across the country to organize and participate in "Dhamma Teachings" in small villages. But whether organising in the countryside or working in the Dalai Lama's office, doing the Hindi version of HIs Holiness' website, she was an inspiration and a support for all who came in touch with her. How often, in the midst of teachings, Dzongsar Khyentse Rinpoche would turn to her for the exact meaning of a dharma term in Sanskrit.
For Raji was a Sanskrit scholar and a senior translator. She was involved extensively in projects in areas of Buddhism, Indian culture and social movements. She was the President and a board member of Siddhartha's Intent India and part of the classical languages faculty at Deer Park Institute. She was involved in designing and leading courses in Sanskrit Buddhist terminology and in Indian literary classics. Her beautiful CD album of Buddhist chants "Dhih" remains with us as part of her legacy.
Raji's commitment to making Buddhism accessible across India led to her translating multiple texts into Indian languages, traveling across the country to personally assist Khyentse Foundation-India grantees, and teaching more than 40 courses at Deer Park Institute.
Thank you Raji-didi for all you did for us. Those of us who knew you realise that we will miss your laugh and the sparkle in your eyes.
But: Death poems are mere delusion — death is death.
Our philosophy programs are taught by renowned Buddhist masters and Indian scholars.  more »
At the moment we have faculty in Sanskrit and Tibetan language.  more »
Our art faculties are from all over the world.   more »
Our visiting faculty offer meditation, philosophy courses.  more »