Dhyāna or Meditation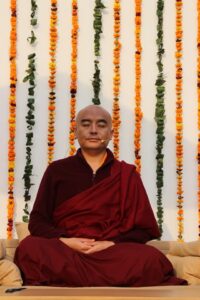 The three disciplines of hearing, contemplating and meditating are the lifeblood of the Nalanda tradition, which Deer Park aspires to follow. Many of the Institute's philosophy programs and teachings include an element of meditation instruction and practice to help students take their understanding of the teachings to a deeper level. In addition to these courses, specialized meditation teachings and retreats are held on a regular basis. These programs are led by masters trained in the Theravada, Zen and Tibetan Buddhist traditions, as well as non-Buddhist traditions such as Kashmir Shaivism and Advaita Vedanta.
Besides these specialized retreats, daily morning meditation sittings are held throughout the year for students attending other courses or visiting the Institute, with personal guidance available on request from resident meditation instructors. The campus' several temples and meditation halls are also available for individuals to use for their own practice.