Nalanda Studies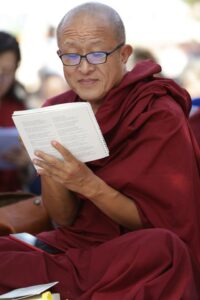 Deer Park Institute's pilot Nalanda Studies Program is anchored in Buddhism and other classical Indian philosophies, classical language studies, meditation teachings, and retreats, with supplementary courses in contemplative arts, culture, and healing. Following the Nalanda tradition, the program involves learning through listening, reading, contemplating, meditating and experiencing. The curriculum is designed so that students may join for any length of time.
Buddhist philosophy studies in the Nalanda tradition focus on sutras (scriptures recording the teachings of the Buddha) and Shastras (treatises by great Indian masters). Accordingly, Deer Park offers a range of courses on these seminal texts, varying in length from a few days to several months. Highly qualified masters of various Buddhist traditions guide students in the systematic study of texts, debating and reflecting upon their deepest meaning.
The pilot Nalanda Studies program has also included courses in other classical Indian thought systems, such as Kashmir Shaivism, Advaita Vedanta, and Jainism, and we intend to expand this area of the curriculum in the future.