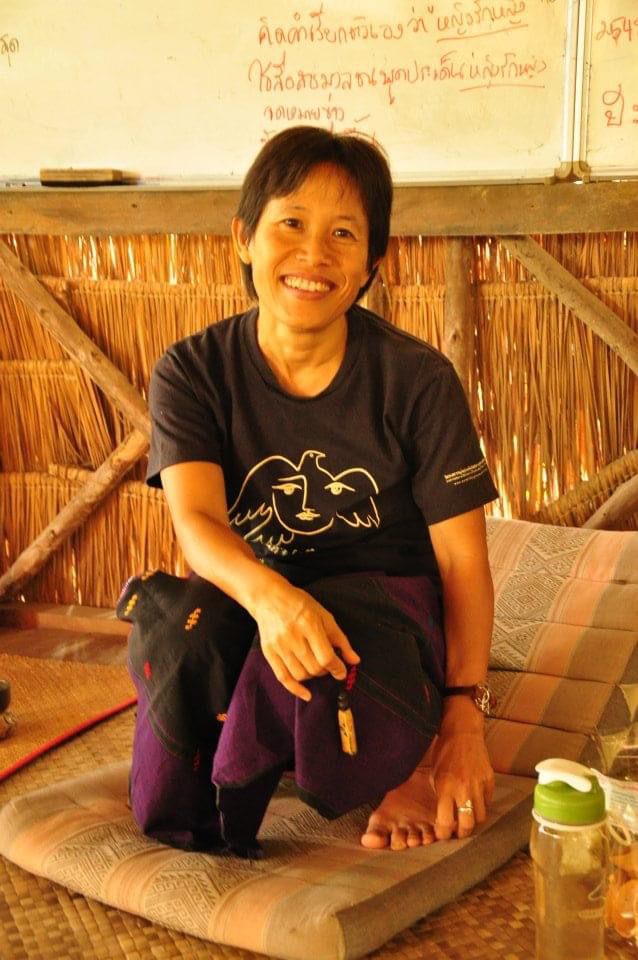 A three day anti- oppression feminist and socially engaged Buddhism workshop led by ouyporn khuankaew, and kamonnart ong
April 23-25, 2023 at Deer Park Institute
The 3-day workshop content will cover power analysis, gender and sexuality analysis, marginalisation, and structural inequality. These analytical tools will help participants understand the injustice at all levels, from personal, family, and groups /organizations to the social structural levels. These are the feminist anti-oppression tools that IWP (International Women's Partnership for Peace and Justice) uses in all the workshops that we conduct.
Along with the feminist tools we will use the core Buddhist teachings, the Four Noble Truths, and the Four Abiding Abodes(Brahmavihara ) as a framework to help participants understand social suffering and a way to engage in social change work.
The workshop methodology is experiential learning, not lecture type. This methodology emphasizes and values the wisdom from the experiences of the participants. The experiences are from our personal life and the activities created by the trainers. Thus, it demands active participation. We every participant to fully participate in every session from day 1 to day 3rd.
This methodology will help participants learn and gain wisdom through 5 channels: the head (the analysis), the heart (emotions and feelings) the hands ( skills practice), the body, and the spirituality. (the cultivation of inner peace through the body and the breaths).
Daily Schedule
Morning session 9:30 am to 12:30 am.
Lunch break 12:30-14:00 pm.
Afternoon session 2:00 pm to 5:00 pm
Day 1
Morning session:
Trust building through sharing our life stories and the practice of deep listening
Afternoon session:
Power analysis, and how to build a partnership culture
Day two
Morning session:
Understand how the mind works through the analogy of the Clouds and clear blue sky. How the body and the breath can be used to train the mind and build inner peace.
Practice deep listening and seeing people's power within
Gender systems analysis
Afternoon session:
Sexuality and sexual orientation, how to deconstruct patriarchal culture, reduce transphobia and transphobia and build a culture of gender equality
Evening session: watch a film about a gender issue
Day three
Morning session:
Identities and Marginalization
Using the Four Noble Truths to understand social suffering and the way to reduce them
Afternoon session:
Six ways to engage in social work. The Four Abiding Abodes (Brahmavihara ) is a guide to engaging in social actions with inner peace, joy, and well-being.
Closing
Facilitation Team:
Ouyporn Khuankaew is a Thai Buddhist feminist peace activist who began her work in the mid-1980s with Indo-Chinese refugees and ethnic minority people in northern Thailand. Since 1995, she has been training women activists in Southeast and South Asia. In 2002 she co-founded the International Women's Partnership for Peace and Justice (IWP). IWP's training framework integrates feminist anti-oppression work, non-violent action, and Buddhist spirituality with a focus on personal and structural change. IWP trains grassroots leaders, health professionals, religious and LGBTQ+ leaders, and social activists who focus their work on gender and sexuality and social inclusion, gender-based violence, trauma healing, peacebuilding, and non-violent actions. She regularly leads meditation retreats for activists and runs well-being workshops to help sustain activists and social movements.
Kamonnart… She is a feminist and a designer. She has been working with the environment and sustainability by designing and recycling clothes. She also works with grassroots activists and communities integrating feminism, and sustainability.