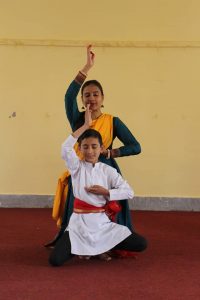 " Anubhuti " An intiative to inculcate Essential Life Skills through Kathak Dance
INTRODUCTION TO KATHAK
Kathak Dance is one of the most ancient forms of Indian Classical Performing Art. It is said to have originated in the
temples of North India before finding its way into the royal courts of Awadh and Jaipur. Known as the dance of
storytellers, Kathak comes from the word 'Kathakaar'-the village minstrel who used subtle gestures and movements to
enhance the dramatic element of the narrative. This dance as it exists today is characterized by its intricate rhythm
patterns, beautiful expressional songs, and rounds coupled with fast and varied footwork.
ABOUT 'ANUBHUTI'
'Anubhuti' ..which means an intense experience, is an initiative that aims to inculcate Essential Life Skills such as
Confidence, Leadership, Team Work and Creativity among kids from urban slums or remote rural/tribal communities of
the country using Kathak Dance (An Indian Classical Dance Form) as a medium. 'Anubhuti', a combination of
Meditation, Yoga, and Kathak Dance give kids an exposure to learn and explore 'Kathak' in its pure form.
WORKSHOP OBJECTIVES
 To build self-confidence
 To encourage creativity and imagination
 To build self-expression
 To build leadership skills and teamwork
 To encourage self-discipline
 To build awareness towards body and mind
 To provide knowledge of Indian Classical Dance Forms
 To inculcate kindness and love
FRAMEWORK OF 3 WEEK-LONG WORKSHOP
 Meditation Sessions
 Yoga Sessions
 Kathak Practical and Theoretical Sessions
 Project work in a team
 Watching Movies/Videos based on Classical Dances
 Group Discussions
 Practicing Mindfulness and Creativity
 Stage Performance
GENERAL RULES
 All the participants are suggested to follow an appropriate dress code i.e.
For Females: Kurta / Frock / Anarkali with leggings
For Males: Kurta Pajama / Long t-shirt – Trouser
 All the sessions are mandatory to attend as every next session will be connected to the previous one.
LOGISTICS
Dates: Dec 27 – Jan 16, 2022 | Batch Size : 20-25 participants |
Duration: 1.5hr each day (weekends off) | Age Group: 10 – 16yrs
(NOTE: On the concluding day of the workshop, there will be a Kathak Recital by all the participants.)
ABOUT THE FACILITATOR
Annu Gupta is an avid Kathak Performer and teacher based out of New
Delhi who have learned and taught this art form for the last 13 years now.
She began her journey of learning Kathak professionally under the
guidance of her guru Smt. Monisa Nayak and have also performed at
the most reputed platforms across the country, including the
Rashtrapati Bhawan in New Delhi. Her love for Kathak and passion to
preserve the cultural heritage of the country have won her many
accolades in a short span of time. She has also conducted workshops
up to one-month long duration in association with NDMC, New Delhi;
Aavishkaar, Palampur; Deer Park Institute, Bir, Himachal Pradesh, and
other reputed organizations across the country.
She is presently running an initiative ' Anubhuti ' that aims to inculcate
Essential Life Skills such as Self- Confidence, Leadership, Team Work
and Creativity among under-served girls in remote rural/tribal
communities and in urban-slums using Kathak Dance as a medium.
For kids (10-16 years)
Dates
Dec 27 – Jan 16, 2022 (Weekends off)
Duration per day

1.5hr

Time (tentative)
3:30 PM – 5.00 PM
Batch size
25-30
Schedule
The schedule should tentatively includes sound meditation, yoga, and Kathak's Practical and theoretical aspect through group activities, reflection sessions, and designing the choreography sessions.
Note:
On the concluding day i.e. 26th Dec, there will be a Kathak recital by all the participants.
CONTACT DETAILS
annu.khanak07@gmail.com
https://www.facebook.com/kathakanubhuti/