AUTHENTIC RELATING AND CONNECTIVE COMMUNICATION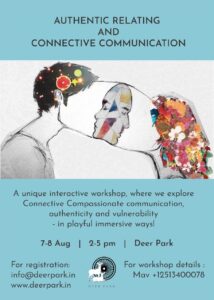 Imagine, if we would be able to connect to the world around us – our friends, family, community, society..  with honesty, authenticity, with the truth of who we really are, in every moment!
Imagine, if such authenticity, would lead to more connection and harmony, as we understand the unique oneness we all share, and cherish ourselves as the myriad diverse expressions of the same oneness…
And let us wonder, where the difficulties lie or originate when we start imagining or living these possibilities?
Let's come together, and unravel possibilities of connection and shared empathy, through playful tools and interactive fun ways. Some of the things we would explore:
–  How to hear ourselves and others deeper and better.
–  Power of authentic expression and vulnerability.
–  Neuroscience of habitual world interactions.
–  Magic of authentic listening.
–  Connective communication possibilities and tools for our day-to-day living.
–  How to engage in difficult dialogues.
–  Emotional Intelligence and mindful self-compassion
And much more…
About Mav :
Coming from Indo Balinese roots, Mav has been a nomadic traveler for most of his life. His travel choices brought him not just happy fun moments, but also brought him face to face with seeing how humanity survives and thrives amidst conflict, oppression, darkness, and how there is so much hope for shining our inner light. Inspired by the values of Buddhism and ahimsa, he brings these principles to his personal journey and shares them with the communities he engages with. He is a practitioner with CNVC worldwide, Gainsville Non-Violent Communication, and also a global facilitator with Elar Institute, Orlando. He has been hosting workshops on authentic relating and connective communication for the last five years.