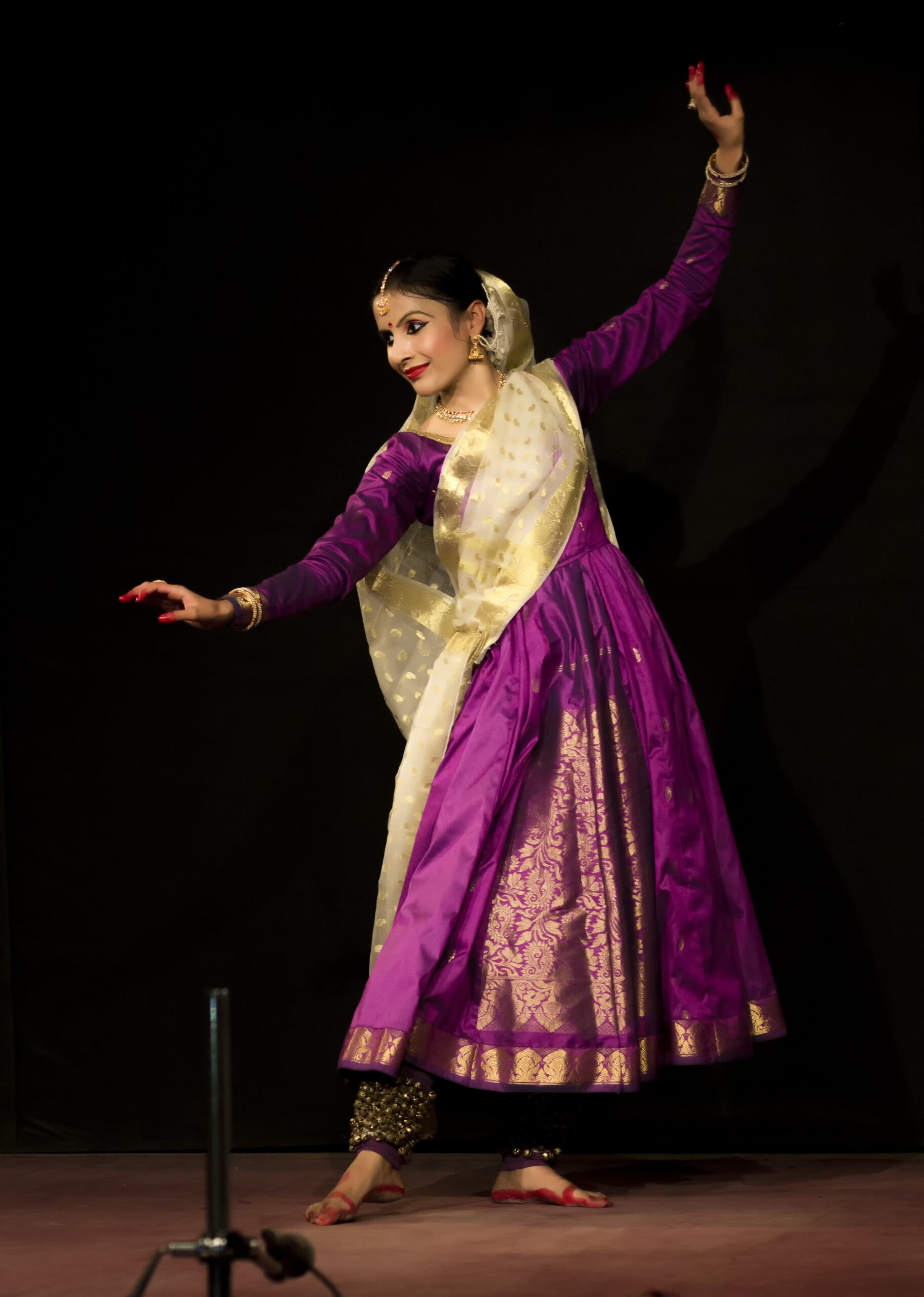 'KATHAK IMMERSION' A-2 week long introductory workshop for beginners to learn and practice the basics of Kathak Dance
INTRODUCTION TO KATHAK
Kathak Dance is one of the most ancient form of Indian Classical Performing ArtKnown
as the dance of storytellers, Kathak comes from the word 'Kathakaar' – the village
minstrel who used subtle gestures and movements to enhance the dramatic element of
the narrative. This dance as it exists today is characterized by its intricate rhythm
patterns, beautiful expressional songs and rounds coupled with fast and varied
footwork.
ABOUT THE PROGRAM
'Kathak Immersion' is a 2-week long journey to explore and dive into this beautiful
Indian Classical Dance Form. It gives people an exposure to learn, explore and experience 'Kathak', in its pure form. It, in the form of various Workshops, helps to plant a seed of Indian Dances in upcoming generation and in dance enthusiasts, also creating exposure among them to expand their horizons. These sessions are for beginners which is an amalgamation of Basic Yoga and Dance and focused on Practical & Theoretical
aspects of Kathak Dance.
PROGRAM OBJECTIVES
 To spread awareness of Indian Classical Dance Forms
 To plant seeds of Indian Classical Dance 'Kathak' among the dance enthusiasts
 To present and teach Kathak dance in its pure form
 To develop an understanding of Kathak's practical as well as theoretical aspect
 To develop the interest of students in learning and knowing classical dance forms
 To find connections of the classical dances with our practical lives
ADDED ADVANTAGES
 Improves Concentration Power
 Nurtures creativity
 Helps in practicing mindfulness
 Builds up self-confidence
 Helps in physical development
 Develops strength and stamina
 Helps in body flexibility
COURSE CONTENT OF THE WORKSHOP (TENTATIVE)
Practical Sessions :
 Basic Exercises
 Basic footwork
 Hand movements
 Basic Spins
 Pure bandishes of Kathak such as tihai, chakkardar, tode, etc.
 Vandana or Bhajan
 Taal teen taal and different laya (rhythms)
 Kavitta
 Musical Pieces of the dance form
 Hast Mudras
Theoretical Sessions:
 Introduction to Classical Dance
 Knowledge about classical dance forms of India
 History of Kathak and its origin
 Gharana Tradition in Kathak
 Definition of technical things
 Instruments and costumes being used in Kathak
 Differentiation among Classical Dance, Folk Dance, and Modern Dance
For Adults (16+)
Dates
Jan 3 – 16, 2022 (Weekends off)
Duration per day

2h

Time (tentative)
10 AM- 12 PM
Batch size
25-30
Schedule
– Observing Silence

– Basic Yoga practice required for the Kathak Immersion

– Kathak Immersion (Practical and theoretical aspect)- Shall be done through group activities, sharing circles, and creativity sessions.

Note:
On the concluding day i.e. 16th Jan, there will be a Kathak recital by all the participants.
GENERAL RULES
 All the participants are suggested to follow an appropriate dress code i.e.
For Females: Kurta / Frock / Anarkali with leggings
For Males: Kurta Pajama / Long t-shirt – Trouser
 All the sessions are mandatory to attend as every next session will be connected
to the previous one.