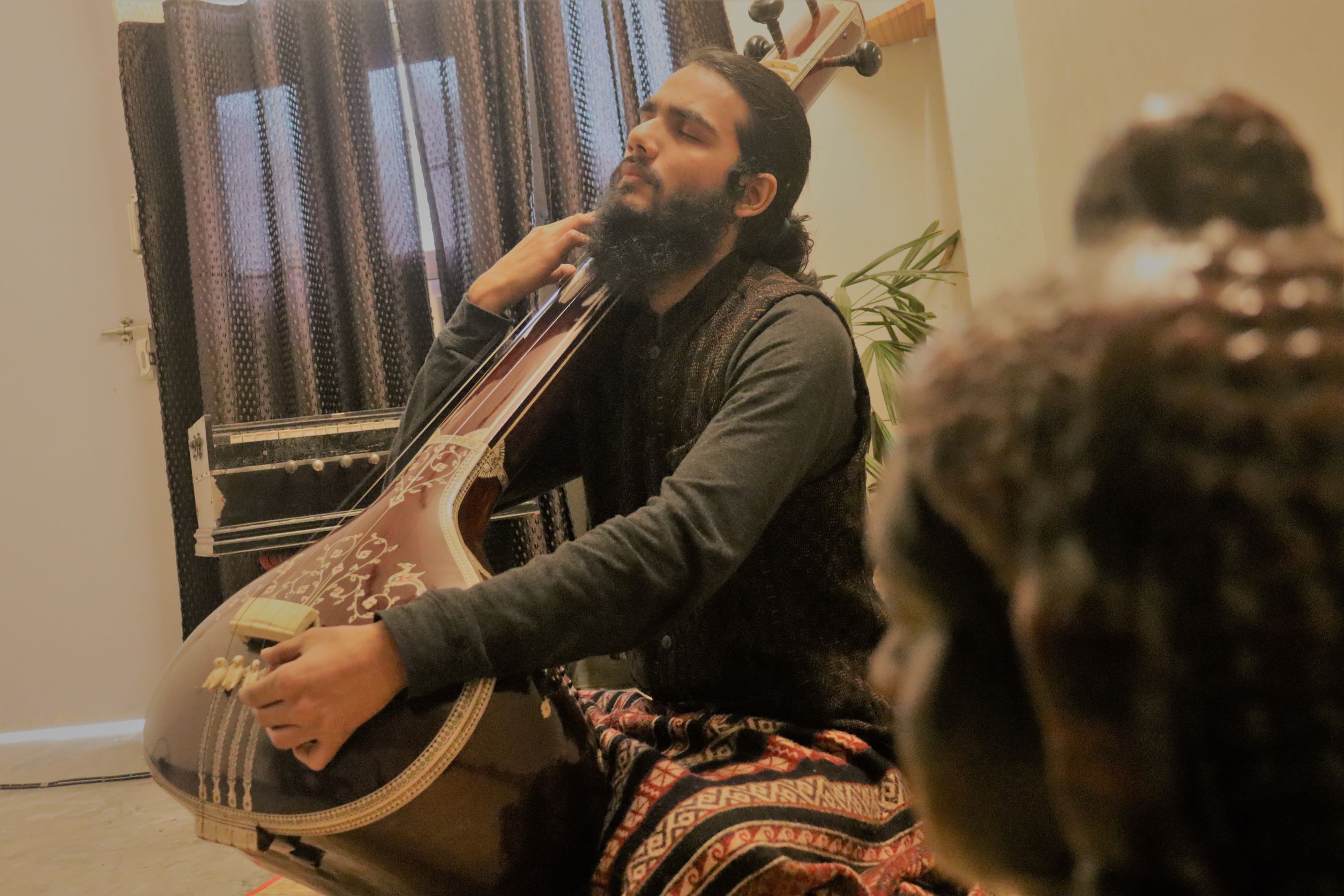 Naadras – A 7-day immersive Hindustani music workshop with the experience of baithak, Led by Naman Sharma
Experience a weekend of pure bliss with an immersive workshop on the enchanting melodies of North Indian Classical Music. Delve into the fundamentals and advanced levels of rāgas (melodic forms), tālas (rhythm cycles), rhythmic phrasing, vocal and instrumental styles, training methods, musicality, performance aesthetics, and universal concepts of music – all through the lens of classical repertoire.
This workshop is designed for students of all instruments and levels who possess a deep interest in learning music. Immerse yourself in practical singing and interactive discussions with fellow music enthusiasts. Whether a beginner or an experienced musician, you'll walk away with a newfound appreciation and understanding of this captivating genre. Don't miss this opportunity to explore the rich heritage of North Indian Classical Music and unlock your musical potential.
Program Objectives:
After this program, the participants will be able to
-Gain an entry point into understanding as well as practicing the Indian classical music tradition through the various learning modules
-Explore the Indian music swar laya and taal
-Obtain an overview of the various elements of Hindustani classical music, and develop a holistic understanding & appreciation for the genre
-Achieve a continued immersion into the practice of Indian classical music through takeaway practice exercises and modules that can be implemented at multiple levels of training
Topics Covered
-Swar sadhana – Type of notes, breathing exercise, vocal dynamics, vocal movement, concept of alankar, understanding the tanpura, Harmonium and tabla.
-Laya sadhana – understanding the role of time in music, principles of rhythm and counting, practices to develop and deepen the intuitive sense of rhythm, concepts of taal, types of taal, ang of taal, layakari. Tāla (rhythm cycle) – understanding the cyclic treatment of time in Indian music through the concept of tāla, and learning the bols or alphabets of taal
-Rāga sadhana – the central concept of all Indian classical music. Understanding the intricacies and nuances of this phenomenon that makes Indian music so special, and learning to sing, improvise and communicate with a rāga in line with the principles of the HIndustani classical music tradition.
Bandish (composition) – combining the various rhythmic and melodic frameworks studied with application to poetry in the form of a composed musical piece in Hindustani music. The aesthetic sense in music.
About Faculty
Naman has been associated with music; practicing, performing & teaching; sincfor past 16 years. He holds multiple degrees and diplomas from Ambedkar University, Delhi; Gandharva Mahavidyalaya; Indira Kala University and the University of Delhi. Completing his graduation & music diploma from one of the reputed music schools of Hindustani classical music, Gandharva Mahavidyalaya, New Delhi; where he got the blessings to learn from many different Gurus. His masters degree is in Performance Study where his area of research was on the 'pedagogy of music'. Naman has got the grateful opportunity to work with great musicians and with different colleges and institutions like IIT Bombay, Tibetian Institute of Performing Arts (TIPA),  JSS Spiritual and culture center, Deer Park Institute, Bir; Sambhavana Institute, Svaram (Aurovillec. sharing his fruitful taste & cognizance about Hindustani Music vis-a-vis workshops, classes, and performances by bringing forth people from diverse age groups and cultural backgrounds and co-creating a space for mutual discovery, re-discovery, and exchange of musical experience.
More about Naman- Namansmusic.org
Baithak – An experience of music sitting with renowned guest artists of different instruments and vocals.
To know more or have any inquiries please mail at namansmusic@gmail.com