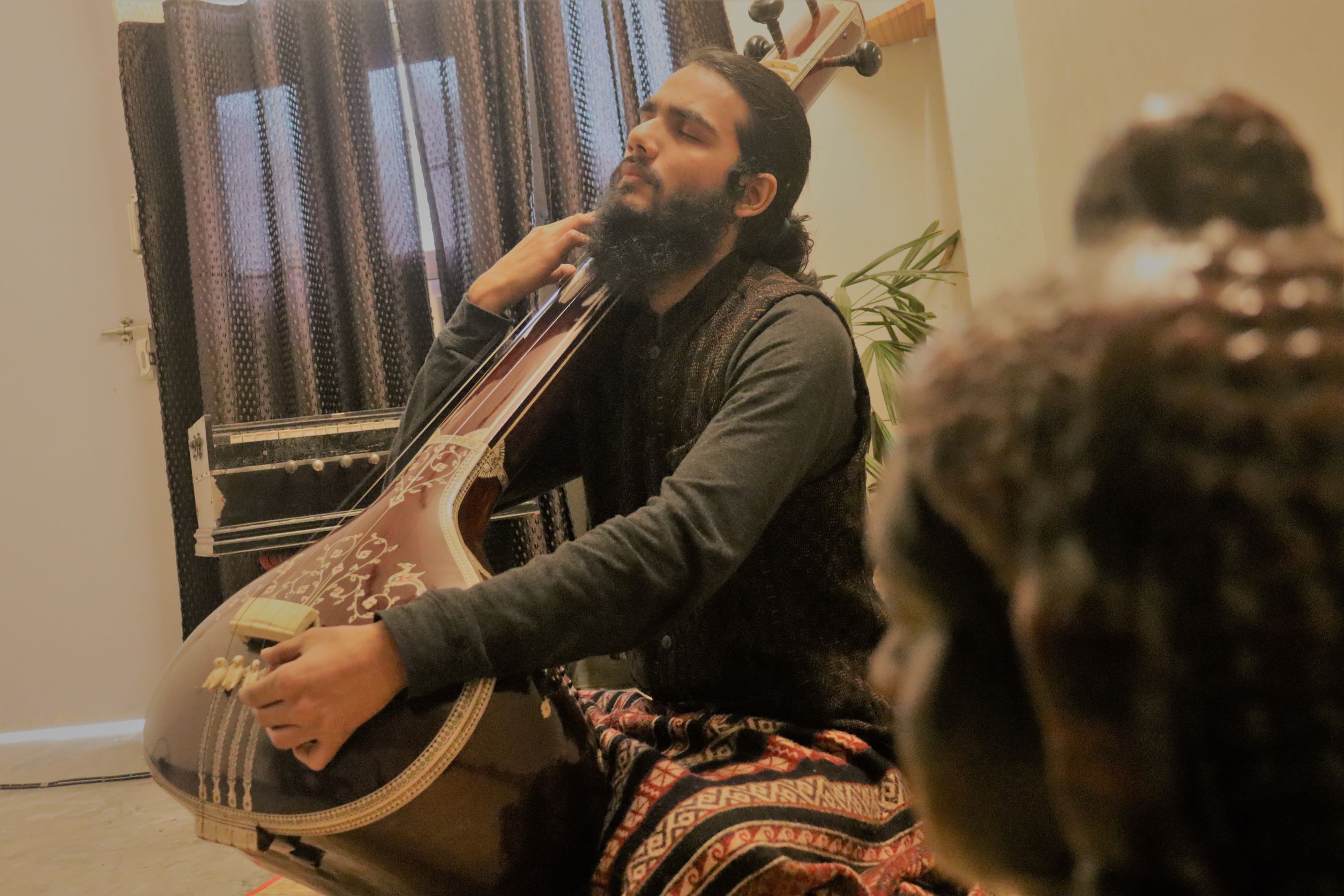 Naad upasana – Explore the concepts of Hindustani Classical Music led by Naman Sharma
About the workshop.
Naad is "the essence of all sound"
Since music is subtly integrated into every aspect of our lives  I wish to include very fundamental and nuanced elements of the musical Notes. This might be an interesting journey for anyone who wishes to seek peace through the art of music. One might not be experienced with music and lovers of any form of music might consider it- be they from Indian classical, western classical, folk music, film songs, or any other kind of genre. Every genre is an interpretation of 12 fundamental notes which contain an entire science in themselves. They are important for balancing our regular life, also known as 'naad yoga'. I shall be simplifying the concept of Hindustani classical music as an exploratory exercise to understand the swar(notes), laya, raag expressions, and taal. This shall be a participatory exercise with each participant's reflections that would be collective learning for all.  In this workshop, we will talk about Music and life deeply. Where this workshop is based on Indian music which is deeply rooted in ancient vedic literature of Hinduism. we shall discuss and simplify its grammar, literature, and practical aspect.  The workshop shall cover the following aspects around the same-
– Breathing techniques and Meditation through music: 
– Concept of swara, naad and alankar (ornaments)
– Concept of laya, taal and layakari (improvisation)
– Concept of Raag, emotions, aesthetics and expressions.
– Singing and understanding of chanting, bandish and, songs.
Take away-
After the workshop, I believe that you gonna learn about the basic outline of Indian music and get a sense of how you can start your Music journey by taking an experience and a schedule for practice and understanding Music.
-Things we need to attend this workshop.
An interest and Four dedicated days.
Daily Schedule 3:00 PM to 6:00 PM
About Faculty
Naman has been associated with music; practicing, performing & teaching; sincfor past 16 years. He holds multiple degrees and diplomas from Ambedkar University, Delhi; Gandharva Mahavidyalaya; Indira Kala University and the University of Delhi. Completing his graduation & music diploma from one of the reputed music schools of Hindustani classical music, Gandharva Mahavidyalaya, New Delhi; where he got the blessings to learn from many different Gurus. His masters degree is in Performance Study where his area of research was on the 'pedagogy of music'. Naman has got the grateful opportunity to work with great musicians and with different colleges and institutions like IIT Bombay, Tibetian Institute of Performing Arts (TIPA),  JSS Spiritual and culture center, Deer Park Institute, Bir; Sambhavana Institute, Svaram (Aurovillec. sharing his fruitful taste & cognizance about Hindustani Music vis-a-vis workshops, classes, and performances by bringing forth people from diverse age groups and cultural backgrounds and co-creating a space for mutual discovery, re-discovery, and exchange of musical experience.
More about Naman- Namansmusic.org
———————————————————————————–