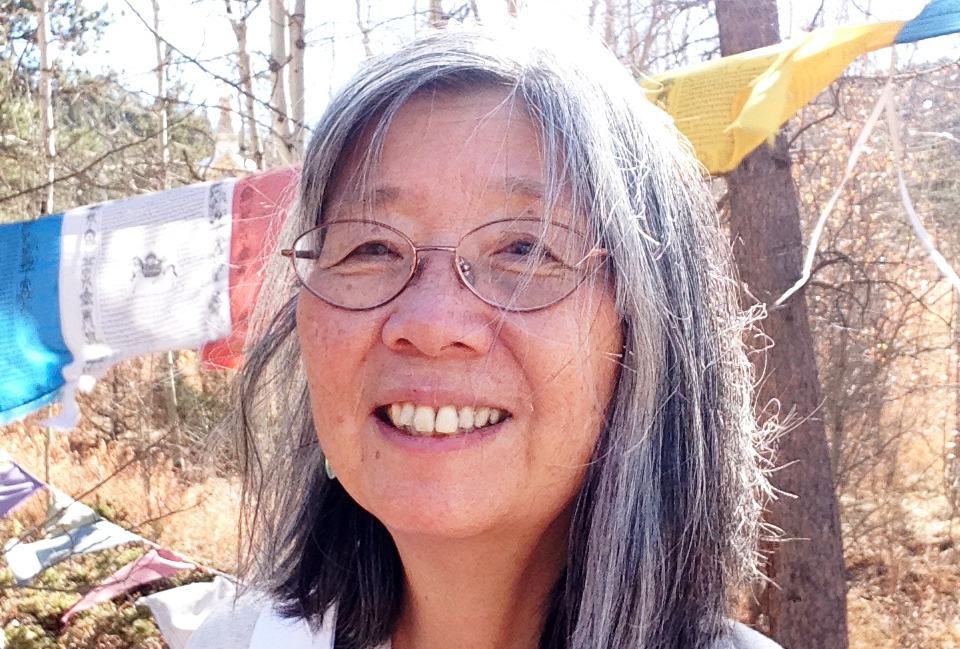 Shambhala Art: Coming to Your Senses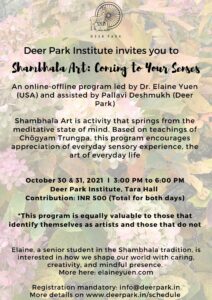 An online-offline program led by Dr. Elaine Yuen (USA) and assisted by Pallavi Deshmukh (Deer Park).
*The program will be held in Deer Park Institute premises in Tara Hall, where Elaine will join in via Zoom from USA and lead through the entire duration while being assisted by Pallavi who will be present in-person with the participants.
About the program:
Shambhala Art is activity that springs from the meditative state of mind. Based on the teachings of Chögyam Trungpa, this program encourages appreciation of everyday sensory experience, the art of everyday life. Seeing the simplicity of things as they provide a ground for genuine creative expression.   We will explore discovery and play, and the universal nature of the creative process. This program is equally valuable to those that identify themselves as artists and those that do not.
This program will be led by Dr. Elaine Yuen, a senior student in the Shambhala tradition. Elaine is interested in how we shape our world with caring, creativity, and mindful presence.
About Elaine Yuen: Lead facilitator
Dr. Elaine Yuen is a contemplative educator, chaplain, and artist. Formerly Chair of the Wisdom Traditions Department and Professor at Naropa University in Boulder, Colorado, she continues to teach and write on pastoral caregiving (chaplaincy), contemplative education, and Buddhist studies. She hails from Philadelphia where she was an associate professor, researcher, and interfaith chaplain at Thomas Jefferson University.
Elaine has been trained as a healthcare chaplain and is also a meditation teacher and Upadhyaya (Buddhist Minister) in the Shambhala Buddhist tradition, trained by Chogyam Trungpa Rinpoche.
More here: www.elaineyuen.com
About Pallavi Deshmukh: Assisting Elaine/Co-facilitator
Pallavi is a Creative Arts Therapy practitioner with specialisations in movement and visual arts using other art forms as support interventions. She holds a Diploma in Dance/Movement Therapy from Pune University and CMTAI(Creative Movement Therapy Association in India) with Artsphere in Pune and a certification in the Foundation of the Therapeutic Value of Visual Art. Since 2019, Pallavi has worked with various populations across age groups and settings including NGOs, old age homes, community centers, semi-residential schools. She has also worked with differently-abled children facilitating arts-based interventions virtually for their holistic development and growth.
More @pallavi_creativeartstherapy (Instagram)