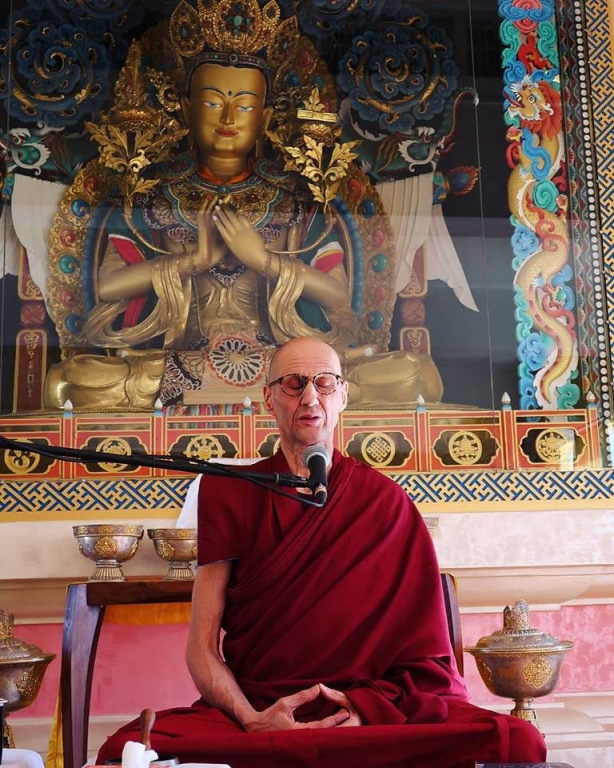 Ven Sumati – Lojong Retreat (POSTPONED DUE TO COVID-19 PRECAUTION)
(POSTPONED DUE TO COVID-19 PRECAUTION) 
Brief Bio Of Kabir Carlyle Saxena,(Losang Tenpa/Sumati Sasana).
Born in Delhi in 1956. Indian Father, English Mother.
Educated in London and Oxford University.
BA Hons Degree in Modern History, 1978.
Met Tibetan Buddhism in 1977 while at university, took refuge-became a Buddhist.
Became a student of Lama Yeshe and Lama Zopa Rinpoche in 1979.
1981-83:- Studied Buddhist Philosophy and Lam Rim at Manjushri Institute, Cumbria, UK.
In 1983 was instructed by Lama Yeshe to buy land and start Root Institute in Bodh Gaya.
Returned to India in 1983.
1987:-Started Root Institute in Bodh Gaya. Was the first Director.
2002: Ordination as a Buddhist Monk.
Teaching Experience:
Has helped with classes in Basic Buddhism since the early 1980s. Tushita Mahayana Meditation Centre Delhi 1983-85.
Gave Basic courses at Root Institute and at Tushita Centre in Delhi through the '80s and from 1994-95 in Delhi.
Taught Introduction to Buddhism courses at Tushita Dharamsala 1998 and 2001.
2002-2009: Teacher Trainer at Maitreya Project Universal Education School, Bodh Gaya.
2010 and 2012 to date: Spiritual Programme Coordinator and Teacher at Tushita Delhi.
On the Board of Several of FPMT's centres in India.
Currently based in New Delhi.
Lo jong means training or transforming the mind, changing completely the
way we think and view our life and circumstances. Specifically, it shows us
how to transform even our most difficult inner and outer situations so that
we don't get upset or derailed by them. Instead, we are able to use them as
manure to enrich the soil of our existence.
We will be looking at two texts, one classic from the 14th century and
another from the 20th, both of which reveal in a very inspiring manner how
we can live as wise, compassionate and courageous spiritual warriors,
committed to the welfare of the world and its beings. This is of course what
we most need nowadays in India and throughout the world as we all face
the onslaught of climate change, hatred, conflict and the Coronavirus.
We will be weaving talks, discussions and meditations into the tapestry of
this short, but hopefully inspirational and practical, get-together.