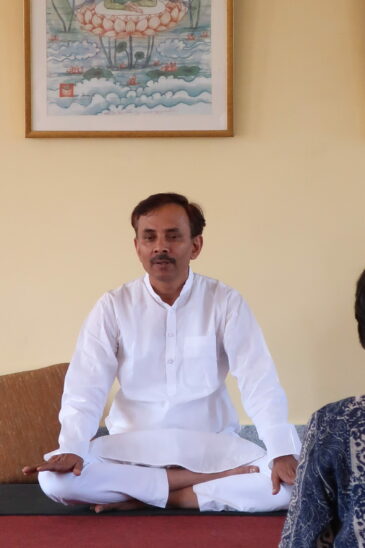 Yogacharya Kaushal Kumar – "Study of Yoga sutra" along with Sankhya Karika"
Yogacharya Kaushal Kumar is from the Bihar School of Yoga
He became a Yoga Acharya in the Ashram, Bihar School of Yoga, Munger, Bihar, living in the ashram from 1988-1991
Lived in Ashram Prayag Yog Training & Research Centre, Jhunsi, Allahabad from 1991 to 1993
Worked as a Yoga Teacher in Nehru Yuva Kendra Sangathan (Human Resource Development Ministry, Govt. of India) for three years from Jan.1992 to June 1995
Conducted about 200 Yoga, Spirituality & Naturopathy Camps in Delhi and other states of India so far. Organized many national and state-level seminars and symposiums on yoga and Spirituality.
Instituted a Yoga Centre in New Delhi, named –Rashtra Nirman Samiti in 1995 registered under Societies Registration Act 1860. Currently running three permanent centers in Delhi, in Safdarjung Development Area, Vasant Vihar, and  Rajouri Garden.
Giving Yoga training to the offices of MTNL, DDA & DMRC (Delhi Metro Rail Corporation), Oriental Bank of Commerce, Bank of India, Punjab National Bank, CAG office, various schools, embassies, many private & govt. organizations in New Delhi.
Yogacharya to many important dignitaries such as families of Hon. Ex-Prime Minister Mr. Manmohan Singh, Hon. Vice-President of India Mr. Hamid Ansari, Mr. Vinod Rai. Ex-CAG, Mr. S Y Quereshi, Ex-Chief Election Commissioner, Mr. B.S. Lalli, Ex-CEO Prasar Bharati, Mr. Mukul Vashnik, Union Minister for Social & Welfare, Mr. Ajay Maken, Union Minister, Mr. Alok Mishra, Ex-Chairman Bank of India, Mr. S. C. Sinha, Chairman OBC, Mr. Roberto, Director World Bank, and many Ministers, Lawyers, bureaucrat, Businessmen, and Journalist.
Organizing Yoga Camps with the tie-up of many Residents Welfare Associations of Delhi.
Yogacharya Kaushal Kumar – "Study of Yoga sutra" along with Sankhya Karika"
October 1 – October 8
 "Yoga discovered by ancient rishis and sages has been the base of Indian culture since ages. It is a boon to humanity given by our rishis. Yoga is not only a philosophy rooted in Veda and Upanishad the oldest scriptures of the world but also the most practical way of life too. Whether all the philosophies of the world are busy in intellectual discussions and debates but yoga gives us practical techniques not only to know our own self but to reach the highest goal of life.
 Yoga has got worldwide acceptance. Though it's practical part has got more attention in the world but the theoretical aspect of it had not been acknowledged and known to the world fully. Which has resulted in utter confusion and a wide gap between the classical and new form of yoga. This new form is mostly the physical part of yoga. Its core part mental, emotional, and intellectual is lost. Which has been a dark phase of yoga.
  'Yoga Sutra' the book written by Maharishi Patanjali in about two hundred BC is the base of yoga. It is almost impossible to get a real knowledge of yoga without understanding the yoga sutra.
 Yoga and Sankhya philosophies are interlinked with each other. Yoga is a practical part of Sankhya philosophy and Sankhya philosophy is theoratical part of yoga. Sankhya philosophy was founded by great sage Kapil. His book Shastitantra is lost. The oldest book which gives you the real knowledge of Sankhya philosophy is Sankhya- Karika. This book was written by sage Ishwar Krishna. These two books give us true knowledge of our oldest philosophies in the world."